If you aren't confident that your writing is clear and concise, I can help. I am a seasoned editor with 20 years of experience perfecting my clients' writing for publication. In addition to correcting all language, logic and factual errors, I will improve the flow of your writing and make it vivid and compelling.
I've edited blogs, novels, young adult fiction, science fiction and fantasy, self-help books, company documents, memoirs, technical books, self-published books, dissertations, and science and medical books and articles. I do proofreading, copy editing, and developmental editing for experienced and new writers alike.
For clients who find it easy to fire off an email or text but freeze when they want to (or have to) write something more formal, I provide creative strategies, guidance and a 1001 ideas to help generate words on the page. You'll find me an enthusiastic writing coach, a kind but exacting editor, and an avid reader.
Whether English is your mother tongue or a second language, I can help you sharpen the language and focus of your writing, enhance its appeal, and increase your chances of publication.
Services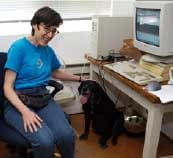 Scientific editing
Developmental editing
Proofreading
Medical editing
Academic editing
Manuscript critiques for fiction and nonfiction writers
Expertise
Twenty years of editing experience, including twelve years of experience editing for scientists, doctors and academics who read and write English as a second or foreign-language.
Credentials
BA, English Literature, MFA, Iowa Writers' Workshop
Published, award-winning fiction writer
Experienced creative writing instructor (Marylhurst University, UCLA Extension Writers' Program, Iowa Summer Writing Program, Summer in Words writing conference)
Over 20 years of experience doing manuscript critiques
Testimonials
"Marian Pierce is my invisible, talented writing partner. She knows when to leave a piece alone, and how to improve and refine my writing when necessary. Her painstaking, word-by-word editing is impeccable. The story remains mine, but Marian's editing makes it lighter, tighter, and stronger."
—Ellen Rogers
"Writing dialogue presents different challenges than writing for the page only. But it is easy to get lost in the trappings of a conversation and lose sight of the need to steer the scene in the direction of your story's end, hold onto theme, maintain character through language, present important information while engaging in conflict and of course, suggest some degree of writerly style or poetic leaning. Marian's gift for simplicity and wit as well as her ability to go deep and take risks, make her a natural fit and perfect choice as a script advisor. She suggests edits and prompts with questions that aim to regain clarity when the dialogue gets messy or drifts. Marian is a person I feel I can easily trust with my work; she understands how to be supportive without being imposing and how to be specific so that changes are practical and achievable. Working with Marian is a productive pleasure."
—Sarah Shively, actress, playwright, filmmaker